Over 15 years of Bioanalytical Expertise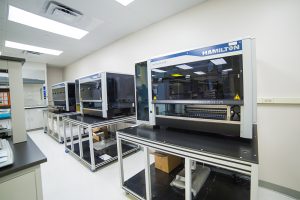 Frontage has been developing methods and analyz­ing bioanalytical samples for more than 15 years. We have over 130 scientists in 3 facilities located in the USA and China. Our senior scientists average 10 – 15 years in complex drug development and many come from leading Pharmaceutical companies. Over 70% of our scientists hold advanced degrees.
Full Suite of Bioanalytical Services
Frontage's experienced bioanalytical scientists support a full suite of services using state-of-the-art instru­mentation
Biomarker Services
Preclinical and Clinical Support
Global Bioanalytical Services (65+ LC-MS/MS)
Biologics Assay (Antibody Drug, ADC, Oligonucleotide)
Our expertise includes development of more than 1400 proprietary and non-pro­prietary methods and the yearly throughput of more than 500,000 samples analyzed in regulated, GLP and GCP settings.
Quality Assured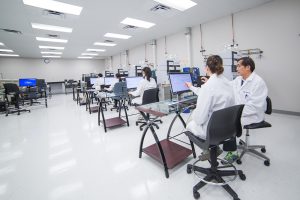 Frontage's experience and performance metrics translate into the highest quality, reproducible bioanalytical data. Frontage's bioanalytical laboratories are compliant with internal standard operating procedures (SOP), Good Laboratory Practice (GLP) and world health authority guidance. We have had more than 30 inspections by the FDA, WHO and Health Canada. Our audit history with regulatory authorities and client inspections is outstanding.
Technology Platforms
Our Bioanalytical facilities house state of the art instrumentation and software.
Hamilton® Robotic Liquid Handler
Simoa HD-1 Analyzer™
MSD MESO SECTOR® S 600
Sciex API 6500, 5500, 5000, 4000 MS
Sciex API 6600 Q TOF MS
Waters Xevo® TQ-S MS
Thermo LTQ™
Thermo Orbitrap™
Agilent 7700x ICP-MS
ELISA plate readers
SpectraMax® Smax L Plate Reader
FlexStation® Plate Reader
ChemiDoc™ Imaging System
Tomtec and Tecan Liquid Handling Systems
Covaris AFA Ultrasonic Extraction Instruments
ICP-MS for trace elements as the biomarkers
GC-MS for small molecule biomarkers
LC-MS/MS for small molecule and protein biomarkers
ELISA Assay Kits (single analyte)
Meso Scale Discovery (single or multiplex)
Ella Protein Simple System (single or multiplex, high throughput)
Magpix Luminex (multiplex)
Gyros Workstation