Drug Metabolism and Pharmacokinetics (DMPK)
At Frontage, our scientific staff applies proven techniques and best-in-class approaches to generate data for critical milestones and decision making during drug discovery and development.

The highly trained and experienced scientific team provides broad and in-depth expertise/advice to clients on appropriate study designs, execution of studies, and interpretation of the data. We offer extensive drug metabolism and pharmacokinetic capabilities for new chemical entities and compounds in development.
Structural Optimization in Early Discovery
Pharmacokinetic Studies in Rodents, Dogs & NHP
In Vitro ADME (Discovery & Development)
Non-GLP Bioanalytical Studies
Radiolabel Studies (including Mass Balance)
For pharmaceuticals, we conduct a range of in vivo and in vitro ADME studies that are needed for selecting lead drug candidates in discovery or are required for regulatory filings of potential therapeutic agents. A range of capabilities and experience exist at Frontage to support discovery and development of drug candidates
For agrochemicals, we offer residual analyses, syntheses of metabolite standards and GLP in vivo/in vitro[jb1] studies with radiolabeled compounds. For more information on our Agrochemical capabilities
Fact:
Provide Scientific input to influence selection of lead drug candidates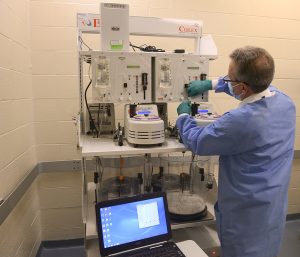 In Vitro Services
Lead optimization
Metabolic Stability
Metabolic Pathway Identification
Metabolite Identification
Solubility
In Vivo Services
Pharmacokinetic studies and analysis
Various routes of dose administration and biofluid sampling
Compound/Test Article support including Salt/Formulation Selection
In-house surgical procedures for increased health and control
Dedicated Bioanalytical Services for PK
PK/PD Biomarker Assessment
Metabolite profiling and identification
Target tissue exposure
Radiolabel/Isotope Services
Mechanistic or Routine Studies
Synthesis of Stable Isotopes for Metabolic studies (13C, 2H)
Radiolabeled compounds (14C, 3H) for Metabolic studies
Mass Balance, excretion, Distribution